Premier Quality Wine Grapes and Juice Since 1920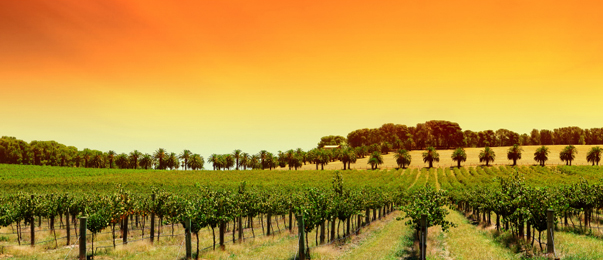 Welcome! Papagni Fruit & Juice has been growing, packing, and shipping grapes since 1920. We have developed, over the years, a very diversified company bent on producing the finest grapes possible for the winemaker, and the consumer.
Fresh Wine Grapes and Wine Grape Juices
Our wine grapes, packaged in 36* and 42* lb. boxes, are considered the finest grapes for home wine making. Great wine starts with exceptional grapes. Our grapes are only picked at peak maturity, not merely at high sugar, for optimum flavor and production of quality wine.
Our 5.4 and 6.0 gallon juice buckets are the finest available to the home wine maker. Using our state of the art Juice Plant, we create natural grape juice with more color and body than ever before.
Juice Concentrate
Papagni Fruit & Juice specializes in the production of custom fruit products. We use the latest technology to produce juices, concentrates, purees, and essences. Our fruit processing and blending programs can be tailored to fit your needs. We are Kosher certified (and soon to be Organic certified) and have the ability to process fruit for both traditional and aseptic uses. We can procure fruit on your behalf or process fruit from your inventory.
Basics To Deciding What Wine To Make:
California grapes from Papagni's vineyards are sure to be mature and have enough sugar content for whatever types of wine you wish to produce. Be advised that mature grapes sometimes require the addition of acids to balance out the pH. We recommend pH in the neighborhood of 3.3 to 3.4 at the start of fermentation for quality wine. If you do not wish to make pH adjustments, utilize high acid varieties such as Barbera in your blends.
For home winemaking purposes, we always recommend blending in at least 5% of our Alicante Bouschet to all wine as it helps to best imitate wines from commercial wineries. Naturally, we suggest only using the highest quality grapes or grape juice to make your wine. No matter what you do, if you start with great grapes from Papagni's vineyards, then your winemaking adventure has it greatest chance of success.
More Wine Making Material and Information
You can find wine making grapes and juices here on our website. In addition, you will also find more information and tips on making your own wine at home or winery. We have over 80 years of experience, so if you have any questions, feel free to browse our website or contact us. We are very proud and passionate about what we do so we are more than willing to help you make the best wine possible!